Top 10 Autonomous Cars for 2018
You may call them as you wish: autonomous cars, autopiloted rides, or self-driving vehicles. Anyway, they will be changing the way we'll drive (actually don't drive) our cars in the future. Whether you are a big fan of the latest technology in the car industry, or you are just tired of performing driving duties, it is time to say hello to the cars of the future. Let's introduce the autonomous car companies and their top models that'll hit the roads in the near future.
1. Volvo XC90 T8 Hybrid
Credit: Driving.co.uk
Although Volvo has promised to put fully-autonomous wheels on the roads in 2017, we have only seen semi-autonomous vehicles so far. The Volvo XC90 T8 Hybrid boasts the Intellisafe Autopilot mode, which is basically the same tech that Tesla Model S uses. This futuristic vehicle brakes automatically in crossings when sensing oncoming traffic.
2. BMW 740i
Credit: Autoweek
If you want to get the semi-autonomous tech in the BMW 740i, make sure to choose an option package that would best suit you.
The Driver Assistance Plus – This option includes parking assistant, city collision mitigation, frontal collision warning, and lane-departure warning.
The Driver Assistance Plus II – This package adds Traffic Jam Assistant, adaptive cruise controls, and active lane system.
The Autobahn – The most expensive option package that comes with a road preview camera which uses automated-suspension adjustment.
3. Mercedes-Benz E-Class
Credit: Acoldn
This sophisticated car comes with the Drive Pilot as an option, which combines the lane-change system with advanced cruise control. The active lane keeping system is meant to perform any lane change automatically in the idle adjacent lanes. That function is triggered by a driver when he activates the turn signal.
4. Mercedes S-Class
Credit: Wikimedia
Here's another Mercedes-Benz autonomous car that gets lots of press these days. It comes equipped with the Intelligence Drive system that sets it apart from the rest. This advanced system employs hands-free computer-assisted steering, lane keep assist, stereo cameras, and adaptive cruise control to reduce the chance of collisions. Mercedes S-Class cars can drive themselves for 12 sec at a time.
5. Tesla Model S
Credit: Wikimedia
As for the autonomous technology, Tesla is the leading company in the industry. Launched four years ago, Tesla's cars with autopilot are constantly being upgraded and updated with high-end equipment like radars, cameras, and high-sensitivity acoustic sensors that can cover the 360-degree area around the car. Even though Tesla Model S is an autopilot-equipped car, it's not completely autonomous yet.
6. Toyota Corolla 2018
Credit: alphasquadofficial
Toyota Corolla comes with advanced safety technology in standard TSS (Toyota Safety Sense) package, which includes automatic high beams, lane-departure alert, pre-collision system, and radar cruise control. The Corolla SE is one of the top-notch Toyota's models that features semi-autonomous safety technology coupled with the six-speed manual transmission, which is a true rarity when it comes to the cars with Autopilot. The Toyota Corolla LE Eco is tailored for buyers looking for a relatively affordable yet well-equipped transportation. It is EPA rated at 40 mpg highway/30 mpg city.
7. 2018 BMW 5 Series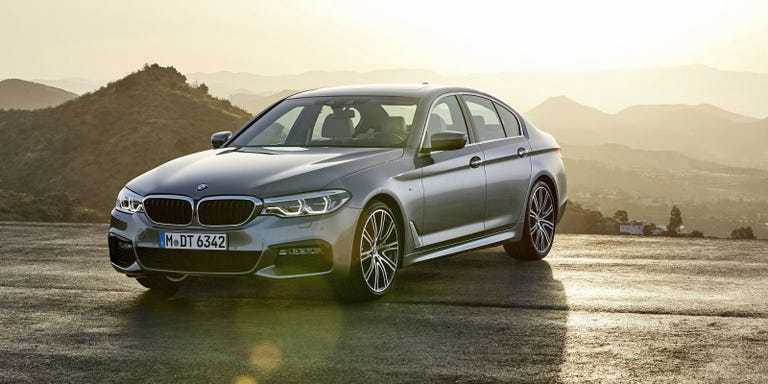 Credit: hearstapps
BMW has fully redesigned its 5 Series for the previous year. It gained plenty of autonomous driving features such as a remote-control parking system which lets the car smoothly park itself in either a perpendicular or parallel parking spot without the help of a driver. No need to enter the car since everything could be managed remotely via a control keyfob. In fact, the Traffic Jam Assistant is responsible for that. This smart system manages both speed and steering in stop-and-go traffic with little or no intervention of a driver behind the wheel. It utilizes both the car ahead and lane markings for safe guidance.
8. Audi A8
Credit: Wikimedia
The Audi's tagline 'Vorsprung Durch Technik,' which means Truth in Engineering, came to the fore in the Audi A8 Series. So it shouldn't catch you by surprise why this German world-renowned brand is one of the leaders in the self-driving car industry. The company has announced A8 flagship for 2018, promising it's going to be a Level 3 autonomous powerhouse. To achieve that goal, this car combines the LIDAR tech (3D non-scanning laser radar) with a number of sensors and cameras. According to the manufacturer, this mighty autonomous car will be capable of driving itself at the maximum speed of 60 km/h.
9. Cadillac CT6
Credit: Wikimedia
The CT6 is an impressive, luxury car that will be launched in 2018. It will offer adaptive cruise control and lane keep assist along with a wide range of safety sensors. In addition, it will come with Super Cruise, a system that implies hands-free cruise control in terms of braking, steering, and power.
10. Lexus LS
Credit: Lexus.com
For 2018, Toyota will also launch flagship Lexus LS. This full-size luxury car will include plenty of advanced semi-autonomous features to make driving a breeze. For example, it will have  Driver Emergency Stop Assist and Lane Change Assist that will let the car automatically shift the lanes.