Top 10 Best Selling Cars in the USA for 2017
It appears that Americans are tending to buy fewer sedans compared to the previous years, but many of them are still purchasing lots of these. That's because the majority of customers were shopping sport utility vehicles rather than traditional sedans. We can state that sales were down for most cars last year. Nevertheless, it was a big year for many automakers. However, only one can be the best selling car. Are you curious to find out what were the best selling cars in 2017? Let's see who they are.
10. Ford Fusion ($22,610)
Credit: Ford.com
Ford's top-selling car has been experiencing the sales decline of 24.1% in comparison with its sales in 2016. The only exception was September sales when this passenger car achieved positive movement, featuring the increase of 3.3% compared to the same month a year earlier. Nonetheless, Fusion remained the best selling model in the entire Ford's lineup. It was refreshed with both interior improvements and exterior design changes. Besides, it added two all-new trim levels and enhanced driver assistance technology.
9. Hyundai Elantra ($20,135)
Credit: Hyundai.com
Elantra was coming a long way from the Hyundai's cheap transportation roots. For 2017, Hyundai made a big step forward with this all-new compact model. That said, Hyundai Elantra offers a number of great features for the money. This solid-feeling, smooth-riding sedan offers plenty of room. Despite being a big seller, its sales were down in the US. For instance, Elantra has experienced the sales decline of 8.8 percent through October last year compared to the same month in 2016.
8. Honda CR-V ($24,985)
Honda Motors has launched this crossover SUV and reached roughly 340,000 sales in the US last year, which was the increase of 6.7% from 2016. The CR-V has been constructed on the Honda's large Civic platform. Despite a larger size, it has the smaller looks. This compact sport utility vehicle features an AWD system and a turbocharged 1.5-liter 4-cylinder engine which delivers impressive 190 horsepower.
7. Jeep Grand Cherokee ($ 35,790)
Credit: The NRMA
The flagship Grand Cherokee achieved noteworthy success in 2017, increasing the sales by 17.7% from 2016. That way it has continued the long tradition of providing extraordinary off-road capabilities. Last year, Grand Cherokee has added two attractive models to its lineup – the luxury Summit and the off-road Trailhawk. They are equipped with a few trim levels and 4WD systems.
6. Chevrolet Cruze ($20,440)
When it hit the market a few years ago, the first generation of Chevrolet Cruze was recognized as an exceptional, fun-to-drive small car. For 2017, the Cruze has been significantly redesigned with a lightweight structure and an upgraded interior, which improved both fuel economy and handling. In the US, its sales were up 3.4 percent last year.
5. Nissan Sentra ($ 19,435)
Even though this Nissan's compact sedan is fairly solid, it appears not to be so remarkable entry for 2017. Sentra features a nicely finished interior, however, it's slightly noisier and cramped than competitors. Nevertheless, this model remained a strong relative to most of its rivals thanks to the aggressive discounts. That has resulted in increased sales (by 2 percent) compared to 2016.
4. Nissan Rogue ($35,030)
Created as a compact crossover, the Rogue was the Nissan's most popular and top-selling vehicle in the USA. Its sales soared 25.5% last year. Yet, note that nearly 30% of its sales have been to the fleet buyers, most of which were rental agencies.
3. Toyota Camry ($24,194)
Credit: Marioordo59
Although this midsize sedan has been updated last year with an extended wheelbase amongst other all-new features, it remained much the same in essence. Toyota Camry came with two brand new engine options to choose from along with an 8-speed automatic transmission. Its sales were decreased by 3.2% vs 2016, though.
2. Toyota Corolla ($21,564)
Credit: Edmunds.com
One of the top-selling cars in the world, Toyota Corolla possesses the legions of keen fans across America. This sedan has an extensive list of features coupled with great value pricing and prime reliability. That yielded the sales success throughout the last year. It's quite likely that Corolla will remain one of the favorite cars on the US market in 2018.
1. Honda Civic ($22,015)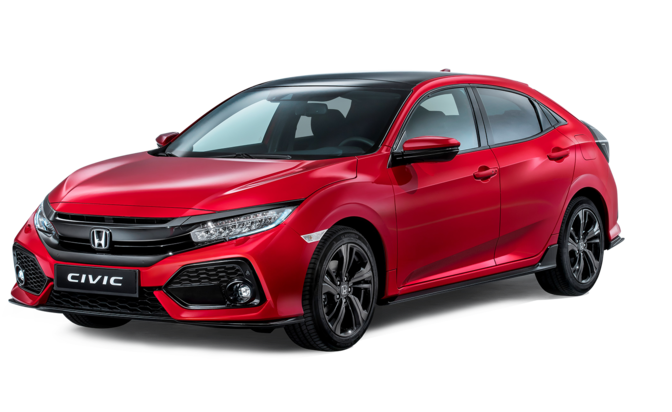 Credit: Honda.co.uk
Besides the above-mentioned CR-V crossover, the Civic is another Honda model that helped the company accomplish growth in the annual sales. With over 345,000 sales in 2017, it increased the sales by 3.1%. Honda is known for producing dependable, compact cars that have been around on the US market for decades. For 2017, the company has catered to most Americans, offering them the car with more room and more power. And that was the big hit for this famous Japanese automaker! The Civic boasts an edgy futuristic styling in addition to an affordable price, so it comes as no surprise why it is the best selling car in the USA in 2017. This vehicle is available in two body styles – as a hatchback and coupe.